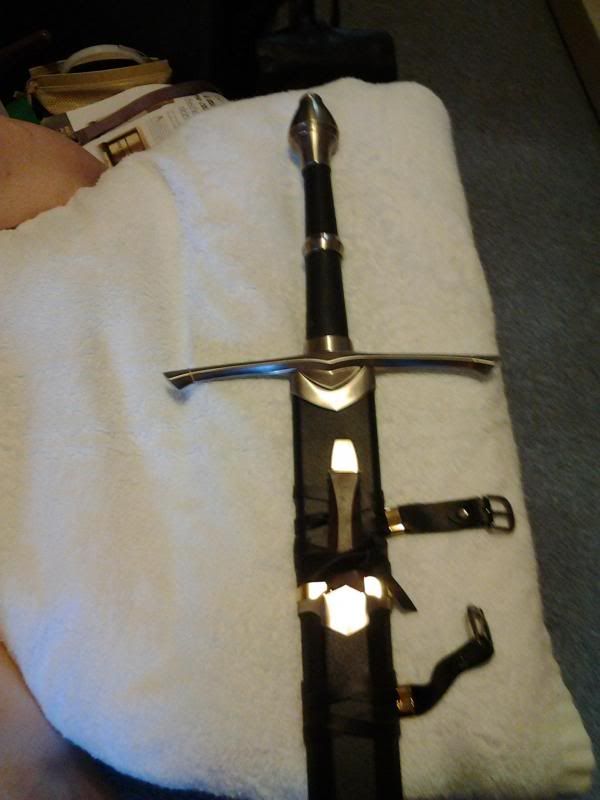 So sword happened.
Actually what happened is that Dad is far too willing to pay for things while he's here and went and paid for our weekly groceries. (Dad and Noddy are here helping with moving furniture while we had vinyl laid upstairs to replace the ancient crappy carpet. There's also bookshelves being put up, my two (a Billy and a Benno) are already up, though most of the shelves still need to go in.) It means I had spare money, so I went ahead and got my sword off laybuy.
If you're wondering, it's Strider's sword, from FotR. Not Anduril, the nondescript Ranger sword. At the time I put it on laybuy Anduril didn't look to have a sheath and I wanted a nice straight sword with a sheath included. There's now an Anduril in the store with a sheath, but I'm not even considering it. The one I am considering is the mini-Sting (no sheath either, but it's damn cute), but no, I won't get that either.
Actually before I consider anything else I have a phone bill and Macafee issues to consider.
Meanwhile, the other swords I have just bought are far far smaller - more Lego swords are on order from Ebay - Dwarf swords and extra Stings, and also some capes. I did actually get a replacement to Kili's lost sword in a Minifigure pack that had a Valkyrie, which also had a brown round shield that us now Boromir's, but I still I want spares of both types. And also capes, because I want to put capes on Fili, Kili and Thorin. Maybe also one on Bilbo.
Meanwhile, once my cube shelf unit is done, I'll work out some way to display Strider (I think that's what I'll call my new non-bendy sword) on top of it. I hope Feltimus and Felty Magnus's protective canisters fit in the cubes.